Brussels Erlang Factory Lite
01 Feb 2012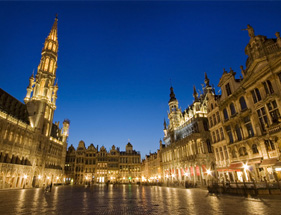 Due to an increasing use of Erlang within Belgium, it was felt that and Erlang Factory Lite was needed. The Factory Lite is a meeting devoted to Erlang and its potential. It is also a chance for you to learn, socialise and network with some fantastic names.
The Erlang Factory Lite is being hosted and co-organised by the Software Languages Lab.
The Erlang Factory Lite is open to everybody with any level of Erlang experience from newbies to experienced developers. Why not come along and meet up with like-minded developers and architects and find out how more firms are using Erlang/OTP to solve previously intractable problems.
We are talking talk submissions, so if you have something you would like to share with the Erlang Community, then please submit a talk.
Speakers so far include the co-author of Erlang Programming, Francesco Cesarini.
The Software Languages Lab

Erlang Solutions

The Software Languages Lab is a research lab within the Department of Computer Science of the Vrije Universiteit Brussel (VUB). The Software Languages Lab was founded in 2009 as a merger of the Programming Technology Lab and the System and Software Engineering Lab. The Software Languages Lab is currently headed by Prof. Dr. Theo D'Hondt, Prof. Dr. Viviane Jonckers and Prof. Dr. Wolfgang De Meuter.

Broadly speaking, the lab is active in the design, implementation and application of better languages to support the software engineering life cycle. This includes programming languages, formal languages, design languages, meta languages, modeling languages, domain specific languages, etc. Check out our research page for more details.

Erlang Solutions specialises in providing businesses with truly scalable solutions through the creation, integration, delivery and lifetime support of products and services based on the Erlang programming language; we work with customers from small developers to Fortune 500 corporations.

Erlang Solutions is the only company of its kind totally focused on Erlang and the Erlang community, offering industry-leading research, development, training and worldwide support. This helps our customers realise the potential of Erlang-based solutions, with all the inherent benefits of the speed to market, low lifetime cost, extreme reliability and scalability offered by Erlang.

The Software Language Lab

Erlang Solutions