Dublin Erlang Factory Lite 2013
23 May 2013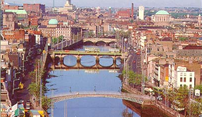 The first Dublin Erlang Factory Lite was a great success!
The Erlang Factory Lite took place in Dublin on the 23rd of May, bringing an excellent opportunity to review the latest projects and developments in the world of Erlang, from an array of great speakers. Not to mention socialising with the Erlang crowd over a few pints of Guinness! The conference was a big success, getting very positive feedback from the conference attendees.
The Dublin Erlang Factory Lite was organised i collaboration with AOL, and took place at their headquarters in Dublin: The Brunel Building in Heuston South Quarter, Ireland.
Hopefully there will be another chance to meet at Dublin Erlang Factory Lite, next year!