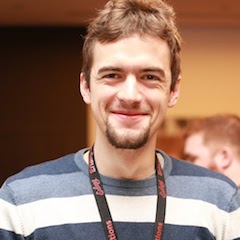 MongooseIM - The Right Tool for Scalable Messaging

Michał Piotrowski
MongooseIM Developer
MongooseIM - The Right Tool for Scalable Messaging
In this talk Michał will present the various new features in MongooseIM 1.6. The audience will get to hear about how Riak 2.0 was integrated, what problems were faced and how they were solved. He will also showcase the mobile-friendly XMPP features that are included in MongooseIM. Detailed results from load-testing new features will be presented and explained.
Talk objectives:
* explain why MongooseIM is mobile friendly
* show how Riak 2.0 was used
* present load-testing methodology
Target audience:
Anyone interested in:
* instant messaging and XMPP
* Erlang,
* load testing distributed systems
Slides
Video
About Michał
Michał has been doing Erlang for 7 years already. Started this adventure at AGH University of Science and Technology in Krakow. Later he could use it in his professional work at Brainly.com (zadane.pl back then). In Jan 2012 Michał joined Erlang Solutions where he boosted his Erlang knowledge and expertise. For the last 5 years he was involved in numerous project aiming to deliver scalable and robust chat platforms based on MongooseIM and XMPP. 
GitHub: michalwski
Twitter: @michalwski