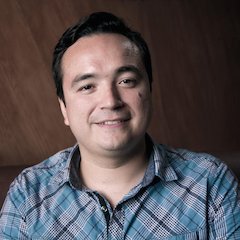 Raspberry Pi Cluster with the Power of Elixir

Ricardo Echavarria
Ruby and Elixir Developer
Raspberry Pi Cluster with the Power of Elixir
Elixir is an elegant and powerful language. This makes the Raspberry Pi a usable server for Elixir Applications. What would happen if we had a cluster of Raspberry Pi devices? Can Elixir and OTP help with the distribution of the application? What would you do with a 16 core and 4 GB of RAM machine? 
I'll explore different techniques to deploy to a Raspberry Pi Cluster and how we can use the Elixir processes to balance the load between the devices.
Talk objectives:
- Compare different deployment approaches to deploy an Elixir application to a Raspberry Pi Cluster
Target audience:
- Beginner to Intermediate Developers curious about Elixir
About Ricardo
Ruby on Rails developer working at Nearsoft that loves programming and agile methodologies. Former consultant developer at ThoughtWorks, cofounder of Piñata Software a Web Development Agency based in Chihuahua, Mexico.
GitHub: r-icarus
Twitter: @r_icarus