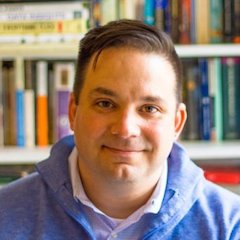 The Internet of Things as a Central Nervous System for Homes, Communities and Cities

Chad Curry
Managing Director, Center for REALTOR Technology
The Internet of Things as a Central Nervous System for Homes, Communities and Cities
At NAR, we are working on a distributed system to share and aggregate environmental data for the home in order to help homeowners have a better quality of life. An analog for how we are approaching this: we see the home as a cell, the neighborhood as tissue, commercial buildings as organs and the city as a body.

This system is intended to help homeowners learn about what the CO2/CO levels, humidity, particulate matter as examples.

We have a system currently written in Python, but we are exploring Erlang for its concurrency and fault tolerance capabilities. We intend this system to work with various environmental sensors and scale to a national level. We are working with the Array of Things project as well to gather data on a citywide level and community level. 
Slides
Video
About Chad
As Managing Director for NAR's Center for REALTOR® Technology & CRTLabs, Chad Curry investigates emerging technologies, educates NAR members & the public through presentations, webinars, blogs and podcasts, and manages the development of products for use by members. He's presented to REALTORS® on the national, state and local levels.

Currently, Chad's work is focused on research and development of smart home devices, iBeacons and wearables as well as renewable energies. Specifically, he is investigating how these trends will impact the real estate industry and benefit members. To support this initiative, Chad and his team has started CRTLabs focused on testing and developing devices for the home to help improve quality of life. He is an Advisory Board member of the Internet of Things Council and is leading the Case Studies Group. Chad is also a Board Member for the Real Estate Standards Organization, where he works to streamline real estate transaction technology. He currently lives in Chicago with his family where he enjoys music, art, soccer and travel.

You can follow Chad and CRT using @crtweet & @crtlabs on Twitter. For more in-depth coverage of emerging technologies in real estate and to download white papers and other educational materials visit CRT's blog, Bits and Bytes at: http://crt.blogs.realtor.org. You can also find out more about CRTLabs here: http://crtlabs.org.
Twitter: @crtweet