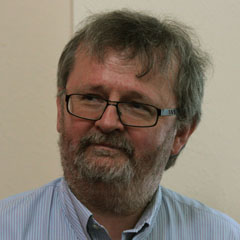 Panel Discussion: Designing With Passion
Keynote: Why Functional Programming Matters

John Hughes
Co-Designer of Haskell and QuickCheck, Testing Tools Entrepreneur
Panel Discussion: Designing With Passion
The panel discussion will focus on programming models and will be moderated by Bruce Tate. We'll start by asking each inventor about their approach when creating their languages:

·       How do you organize thoughts and code?

·       What unique advances in usability did your language make? 

·       Why do your users love to code in it?

This opening will lead to a Q&A discussion on what the language inventors got right and what they would do differently today if given the chance to start again. What decisions made the biggest impact on that solution? What are the consequences of those decisions? Don't miss this opportunity to learn directly from language creators!
Keynote: Why Functional Programming Matters
25 years ago John published "Why Functional Programming Matters", a manifesto for FP--but the subject is much older than that! In this talk John will take a deep dive into history to revisit a personal selection of highlights.
Slides
Video
About John
John Hughes has been a functional programming enthusiast for more than thirty years, at the Universities of Oxford, Glasgow, and since 1992 Chalmers University in Gothenburg, Sweden. He served on the Haskell design committee, co-chairing the committee for Haskell 98, and is the author of more than 75 papers, including "Why Functional Programming Matters", one of the classics of the area. With Koen Claessen, he created QuickCheck, the most popular testing tool among Haskell programmers, and in 2006 he founded Quviq to commercialise the technology using Erlang.
Twitter: @rjmh