Monica Wilkinson
Open Web Standards and Data Portability Advocate
Cloud Foundry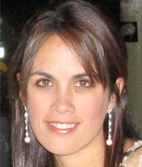 Monica Wilkinson has been writing software for over a decade and for a variety of large scale employers such as IBM, MySpace, Facebook and VMware. Monica is an Open Web Standards and Data Portability Advocate and has contributed to many open specifications around Activity Streams and real-time notifications. Today she works as a Developer Advocate at Cloud Foundry where she is directly responsible for the website, documentation, open source gallery and working with developers and partners to enhance the platform.



---
Monica Wilkinson is Giving the Following Talks
How Cloud Foundry, the first Open PaaS, can help you deploy apps faster and experiment with new technologies.
Join Monica Wilkinson of the Cloud Foundry Team and Paul Jones, founder at 23wide, for a hands-on-session to learn how to develop and deploy a simple application to the cloud in minutes and experiment with new technology. In this session, you will learn:
What is Cloud Foundry - Monica
How to deploy and scale apps on Cloud Foundry - Monica
How to bind application services - Monica
How languages go into Cloud Foundry - Paul
How Erlang runs on Cloud Foundry - Paul
Open Source Process - Monica
Target audience
: Web Developers
Presentation slides are also available
here
.