Dan Reverri
Developer Advocate, Basho Technologies
Basho Technologies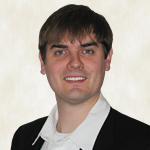 Daniel joined Basho in June 2010 after becoming actively involved in the Basho community. For the year prior to joining Basho he was building applications using many of the tools built by Basho including Rebar, Webmachine, and most importantly Riak. Before that, Daniel worked in the support and services groups of SugarCRM and Parametric Technology Corporation.
Daniel graduated from Boston University in 2004 with a degree in Aerospace Engineering.


---
Dan Reverri is Teaching the Following Courses
Target Audience:
Developers and Ops
Prerequisites:
Programming skills in any language; understanding of Unix basics
Objectives:
* Installing and building a local Riak cluster
* Leaning the operational basics of Riak
* Using the various Riak APIs and Query Mechanisms
* Understanding and exercising Riak's built-in scalability and fault tolerance
* Analyzing and the numerous use cases for Riak
* Benchmarking, Troubleshooting, and Running Riak in production
Goal:
Learn why Riak is the best open source database you will ever run in production
Duration
: Three days.
Registration
: 8:30 on 26 March 2012.
Venue
:
Marines' Memorial Club and Hotel in Union Square.
Description
: Riak is an open source, scalable database being used by companies like Comcast, Boeing, Voxer, Yammer, GitHub, and Joyent today. Riak is built from the ground up to be fault-tolerant to operational failures. It also has various APIs and query mechanisms that are flexible and purpose-built to make developers' lives easier. This class will be a top-to-bottom review of Riak, and attendees will leave with a firm understanding of why it's the best open source database you will ever run in production.