Janusz Dziemidowicz
Nasza Klasa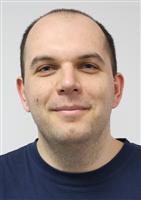 Janusz Dziemidowicz graduated from the Faculty of Computer Science at the Wroclaw University, Poland. Since December 2007 he works in nasza-klasa.pl. He was involved in development and maintenance of nasza-klasa.pl when it was becoming more and more popular. Currently he works on designing and implementing new features of the portal.

---
Janusz Dziemidowicz is Giving the Following Talks
Integrating XMPP based communicator with large scale portal
At the beginning of 2010
nk.pl
(largest Polish social network with 13 million active users) launched XMPP based communicator integrated with the site. ejabberd, one of the most widely known Erlang projects, was chosen as server software. In my talk I'll explain why ejabberd was chosen (as other alternatives were also considered), what challenges we faced during integration with
nk.pl
and how we solved some of the problems we encountered.