Erlang Factory SF Bay Area 2011
21 Mar - 25 Mar 2011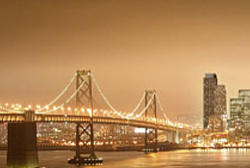 Record Numbers
This year's Erlang Factory SF Bay Area 2011 reached record delegate numbers with over 170 in attendance! The conference gave everyone a fantastic chance to listen to some great talks, network and socialise with some of the best programmers around. This year's conference saw an additional 10 talks on last year and boasted the best programme we have put together yet!

2 days of exciting talks and 3 days of expert training took place from 21st - 25th March 2011 at the Hilton San Francisco Airport Hotel. Like in previous years the conference was aimed at Erlang enthusiasts from architects to newbies.

Speakers included Joe Armstrong and Robert Virding– the inventors of Erlang, Damien Katz – the creator of CouchDB, keynote talks from Kostis Sagonas - Leader of the HiPE team at Uppsala University and inventor of Dialyzer and Dan Ingalls - The principal architect of five generations of Smalltalk environment, with many more Erlang experts from the US, Europe and the rest of the world.

This year's Erlang University, ran from 21st to 23rd of March and was taught by O'Reilly author Simon Thompson and Erlang Co-Inventor, Robert Virding. Two exciting additions were 3-day courses on Erlang and Test Driven Development, and XMPP with Erlang and EjabberD. Erlang and TDD was aimed at testers and developers who know Erlang but want to learn the art of TDD. It was taught by Learn You Some Erlang's very own Fred Trottier-Hébert. XMPP with Erlang and EjabberD was taught by XMPP Programming author and expert Jack Moffit.
Thank you to everyone for making this year's conference not only a great success but also a pleasure to attend and organise.