Erlang Factory SF Bay Area 2012
26 Mar - 31 Mar 2012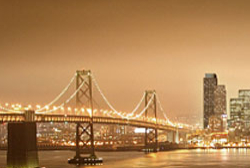 "What can be done with Java, but should better be done with Erlang"
This year's Erlang Factory SF Bay Area 2012 had an A-list sell-out line-up of speakers which included Erlang Inventors Mike Williams and Robert Virding discussing software approaches used in the industry and the unique features of the Erlang VM and a Keynote talk from Jim Zemlin, Executive Director of The Linux Foundation.
What people were saying about the conference:
@hungryblank - Sad to leave #erlangfactory early, amazing people, great knowledge and ideas, lots of fun. Thanks to the awesome team that made it happen

@momo13 - Last talk for me at #erlangfactory was the entertaining and interesting tutorial by @FrancescoC Great conference, thanks to the organizers!

@igorclark - amazing #erlangfactory talk by Rick Reed about scaling #erlang VM & #freebsd to hit ~2.8m simultaneous @WhatsApp connections. mind: blown.
@philtoland - Lots of cool people here. Some great hallway conversations. #erlangfactory
Anyone interested in massively concurrent and scalable systems who wanted to be ready to tackle the multi-core revolution and conquer the cloud knew that the Erlang Factory SF Bay Area was THE conference to be at in 2012. Companies that presented included AOL, The Boston Globe, Ericsson, HP, Nokia, GitHub, Heroku, OpsCode, Basho, CouchBase and WhatsApp which just goes to show how much the use of Erlang is growing year after year.
Growing to a 4 tracks per day Conference it would appear there is no stopping the growth of Erlang and the new ways it is being used as tracks included DevOps, Erlang in the Cloud and Erlang in Business.
For those wanting to gain more knowledge or just swot up attended 3 days of expert training prior to the conference where one of the courses was taught by Robert Virding, a co-inventor of Erlang. If 3 days of training and 3 days of exciting talks weren't enough, people flocked to the Community Day which featured tutorials, a Hackathon, an Unconference and other community-related activities.